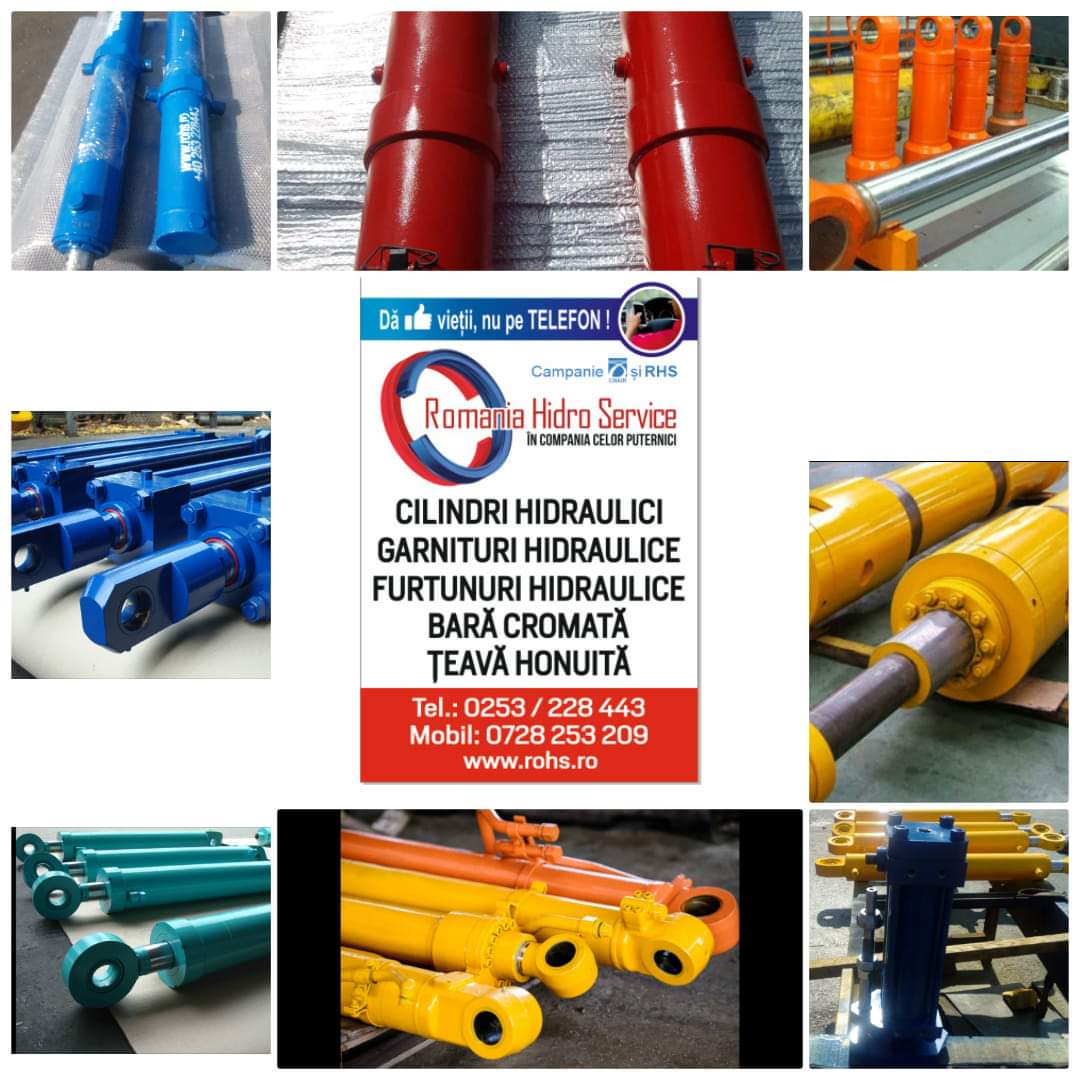 The hydraulic cylinder is the most important part of a hydraulic installation. The cylinder transforms the energy of the hydraulic fluid into useful mechanical work.
Hydraulic cylinders are composed of two main elements, as tube and piston to which the rod is attached. A more detailed presentation of the components of a hydraulic cylinder:
hydraulic tube (unsealed tube, honed on the inside);
hydraulic cylinder base (welded or threaded into the cylinder tube);
the head of the hydraulic cylinder (attached by a screw or attached to the tube by a spring);
hydraulic cylinder piston (prevents oil from passing between the two chambers);
hydraulic cylinder rod (made of high tolerance steel);
inlet / outlet openings, cylinder seals (they have different shapes, made of different material and installed by different methods);
rod end (connects the cylinder to the load);
self-locking nut (attaches the rod to the piston);
locking ring (limits the stroke of the cylinder plunger and mounts the cylinder head);
end plug of the cylinder;
cylinder flange;
bushings (integrated in the welded ends of the cylinders);
spherical plain bearings (used to attach the cylinder to the load).
Hydraulic cylinders are used in the following fields: mechanical engineering, agriculture, civil engineering, naval industry, energy industry, food industry, machine building industry and / or aeronautical industry.
Depending on the operation of hydraulic cylinders, they can be double-acting, double-acting and double-rod, single-acting, plunger, telescopic or tandem.
Having wide experience and trained staff, ROMANIA HIDRO SERVICE execute and repair, in its own workshop, hydraulic cylinders, hydraulic subassemblies, pumps, distributors, etc.
We also provide technical assistance, installation and service with trained staff in the areas we represent, on-site or in our own workshops.
Romania Hidro Service is at your disposal at the headquarters on 3 Primaverii Street, Targu Jiu, Gorj or by phone 0253 228 443 and 0728 253 209.