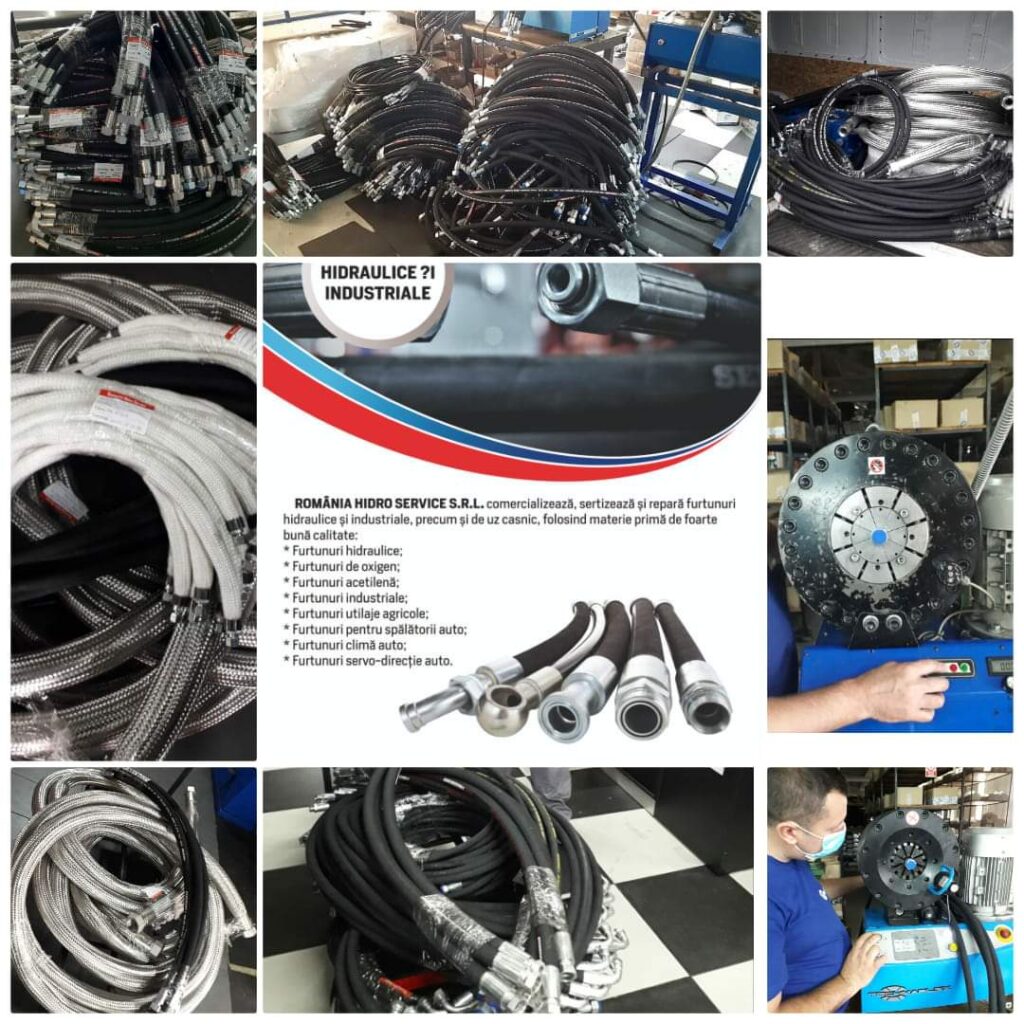 Romania Hidro Service S.R.L. sell and crimp hydraulic and industrial hoses, being the sole representative in Romania of ALFAGOMMA DUNLOP and CIDAT Italy, covering the entire range of :
Hydraulic hoses;
Oxygen hoses;
Acetylene hoses;
Industrial hoses;
Car wash hoses.
We also sell the whole range of fittings, armatures, nipples, adapter sleeves, washers and all the necessary components for hydraulic and industrial hoses.
Agricultural field, for example, is an area where hoses are used to a great extent. All the machineries necessary for agriculture are equipped with hoses: crimped hydraulic hoses, hoses for spreading chemical fertilizers and seeds, etc.
Considering the quality of the products offered by Romania Hidro Service SRL, we guarantee that they successfully meet even the most demanding requests and the solutions offered by our company lead to solving any problem, regardless of its complexity.
HYDRAULIC AND INDUSTRIAL HOSE TYPE 1SN
oil resistant synthetic rubber coating
a layer of steel wire
friction and season resistant rubber coating
temperature: from -40 ° C to +100 ° C (max. 120 ° C)
FURTUN
Inch
Exterior
(mm)
Presiune
(BAR)
PSI
Radius
(mm)
Masa
(kg/m)
2 SN DN 06
1/4
15,0
400
1840
100
0,376

2 SN DN 08
5/16
16,6
350
1460
115
0,412
2 SN DN 10
3/8
19,0
330
1440
130
0,519

2 SN DN 12
1/2
22,2
275
1220
180
0,630
2 SN DN 16
5/8
25,4
250
1150
200
0,780
2 SN DN 20
3/4
29,3
215
1010
240
0,959
2 SN DN 25
1″
38,1
165
720
300
1,409

2 SN DN 31
1″ 1/4
48,3
125
560
420
2,059

2 SN DN 38
1″ 1/2
54,6
90
450
500
2,385
2 SN DN 50
2″
67,3
80
330
630
3,050

HYDRAULIC AND INDUSTRIAL HOSE TYPE 2SN:
oil resistant synthetic rubber coating
two layers of steel wire
friction and season resistant rubber coating
temperature: from -40 ° C to +100 ° C (max. 120 ° C)
FURTUN
Inch
Exterior
(mm)
Presiune
(BAR)
PSI
Radius
(mm)
Masa
(kg/m)
2 SN DN 06
1/4
15,0
400
1840
100
0,376
2 SN DN 08
5/16
16,6
350
1460
115
0,412
2 SN DN 10
3/8
19,0
330
1440
130
0,519
2 SN DN 12
1/2
22,2
275
1220
180
0,630
2 SN DN 16
5/8
25,4
250
1150
200
0,780
2 SN DN 20
3/4
29,3
215
1010
240
0,959
2 SN DN 25
1″
38,1
165
720
300
1,409
2 SN DN 31
1″ 1/4
48,3
125
560
420
2,059
2 SN DN 38
1″ 1/2
54,6
90
450
500
2,385

2 SN DN 50
2″
67,3
80
330
630
3,050
HYDRAULIC AND INDUSTRIAL HOSE TYPE 4SP:
oil resistant synthetic rubber coating
four layers of steel wire
friction and season resistant rubber coating
temperature: from -40 ° C to +100 ° C (max. 120 ° C)
| FURTUN | Inch | Exterior (mm) | Presiune (BAR) | PSI | Radius (mm) | Masa (kg/m) |
| --- | --- | --- | --- | --- | --- | --- |
| 4 SP DN 06 | 1/4 | 17,8 | 450 | 1800 | 150 | 0,615 |
| 4 SP DN 10 | 3/8 | 21,4 | 445 | 2050 | 180 | 0,850 |
| 4 SP DN 12 | 1/2 | 24,6 | 415 | 1750 | 230 | 0,935 |
| 4 SP DN 16 | 5/8 | 28,5 | 350 | 1720 | 250 | 1,146 |
| 4 SP DN 20 | 3/4 | 32,1 | 350 | 1800 | 300 | 1,554 |
| 4 SP DN 25 | 1″ | 39,7 | 280 | 1450 | 340 | 2,033 |
| 4 SP DN 32 | 1″ 1/4 | 50,8 | 210 | 840 | 460 | 3,176 |
HYDRAULIC AND INDUSTRIAL HOSE TYPE 4SH:
oil resistant synthetic rubber coating
four layers of steel wire
friction and season resistant rubber coating
temperature: from -40 ° C to +100 ° C (max. 120 ° C)
FURTUN
Inch
Exterior
(mm)
Presiune
(BAR)
PSI
Radius
(mm)
Masa
(kg/m)
4 SH DN 20
3/4
32,2
420
1830
280
1,556

4 SH DN 25
1″
38,7
380
1620
340
2,087
4 SH DN 32
1″ 1/4
45,5
325
1410
460
2,571

4 SH DN 38
1″ 1/2
53,5
290
1250
560
3,439
4 SH DN 50
2″
68,1
250
1100
700
4,903
FURTUN
Inch
Presiune
(BAR)
PSI
Radius
(mm)
Greutate
(kg/ml)
1 SN DN 08
5/16″
220
850
115
0,285

2 SN DN 06
1/4″
400
1600
75
0,295
2 SN DN 08
5/16″
350
1400
85
0,344